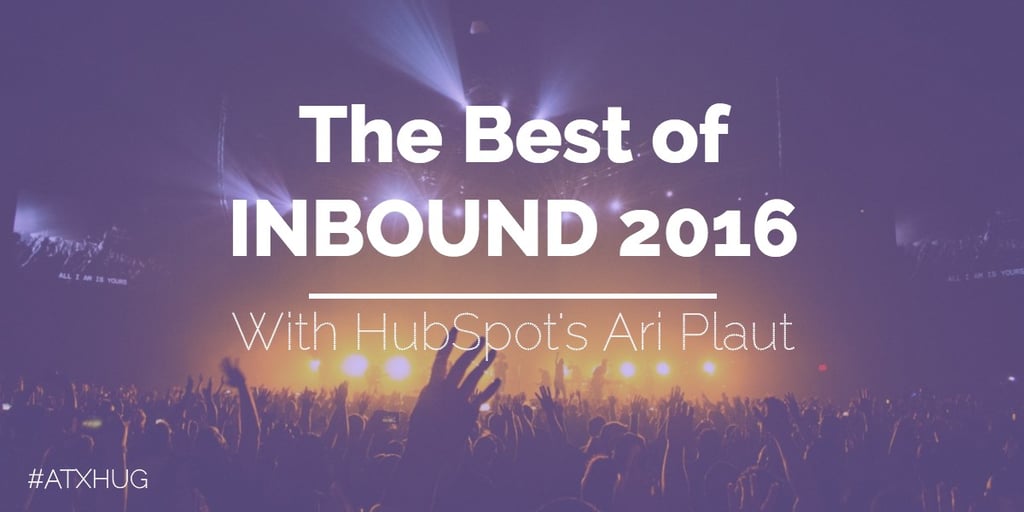 Thanks to everyone who joined us for a special Austin HUG meet-up on the BEST of Inbound 2016 with special guest Ari Plaut, Product Marketing Manager at HubSpot!
Ari shared some of the latest HubSpot product releases from Inbound 2016 including the what, why, and how of Lead Flows. He also shared other great inbound marketing insights including lead generation tips, tricks, and tests to try.
Be sure to check out his presentation below:
Meet Ari, Product Marketing Manager at HubSpot
In his time at HubSpot, Ari has developed both a deep understanding of Hubspot's technical tool set and the know-how of what it takes to achieve sustained Inbound Marketing success. Ari started on HubSpot's Support team, garnering an in-depth knowledge of the Hubspot tools while working with customers on the technical implementation elements of the Inbound Marketing process. From Support, he earned promotions to Team Lead and Enterprise Inbound Marketing Consultant. As Product Marketing Manager, Ari ensures the market success of the HubSpot platform.
When he's not helping others achieve success in inbound marketing, you may find Ari wearing a silly hat while booming out bass vocals, reminiscent of his time in Tufts Amalgamates, his collegiate a cappella group. Just ask him about it.
Inbound 2016 Contest Update
The Austin HubSpot User Group came in second place for the Inbound HUG contest with 53 Austin HUG members in Boston! Thanks to all who participated and helped us win our HubSpot swag bags! And a special thanks to everyone who joined us for Texas HUGs Happy Hour in Boston. It was great networking over chips, salsa, and margaritas while discussing all things Inbound.
Inbound Workshops in 2017
We'll be hosting some Inbound Marketing Workshops in early 2017. The topics will include content strategy, SEO, lead nurturing, the HubSpot platform, and more. This is great for new HubSpot users or marketing teams looking to develop their action plan for 2017.

If you're interested in learning more, email Parker at parker@jaxzenmarketing.com


HUG Annual Survey 2016
Be on the look out for a survey we'll be sending out in December. This is a great way for us to get feedback on HUG, share ideas with the group, and continue to make improvements to help you get the most out of HUG.
Happy Holidays from your Austin HUG leaders, Jaxzen Marketing! We will not be meeting in December. See you in 2017!